Discover the top 5 Montale fragrances that will captivate your senses, brought to you all the way from Paris.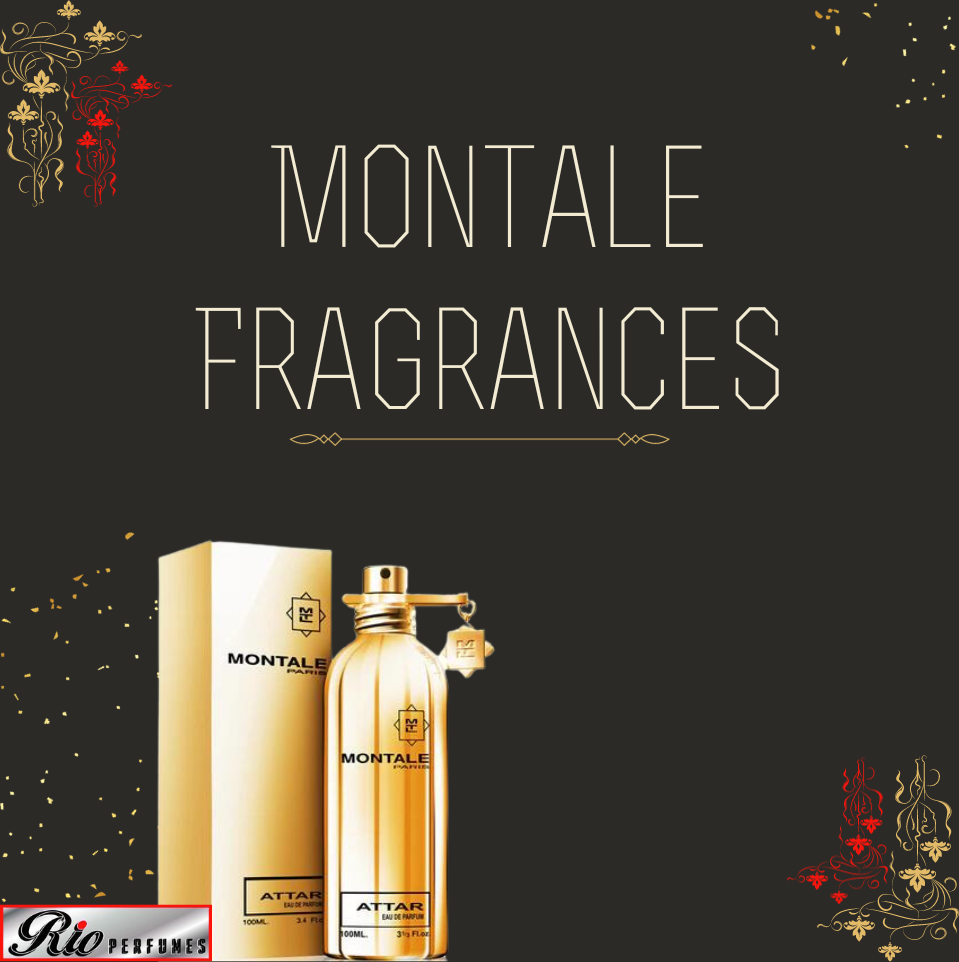 Scented fragrances resemble painters who fill the air with recollections, narrate stories of affection, and establish an everlasting allure.
There are very few brands that can rival the elegance and innovation of Montale. Based in the picturesque city of Paris, this fragrance brand is renowned for producing incredibly impressive aromas.
Their dedication to producing high-quality and opulent scents is evident in every fragrance they create.
In this blog post, Rio Perfumes from South Africa will guide you through the realm of fragrances, focusing on the top five Montale scents that are far more than mere pleasant odors. These fragrances have been expertly crafted to captivate your undivided attention and leave a lasting impact on your senses.
The key is to discover a fragrance that gives you a sense of personal ownership. That is why we invite you to embark on a journey with us, delving into the fascinating universe of Montale. We will explore the unique history behind their scents and assist you in choosing the ideal fragrance for yourself.
Continue reading to discover the top five Montale fragrances that have the ability to captivate your senses and alter your perception of high-end scents, all the way from the heart of Paris to you.
Distinctive features of Montale fragrances
Montale Paris Dark Purple
Montale Paris Dark Purple is a mesmerizing work of art that features a delicate combination of alluring elements.
This fragrance, which is a 100-ml Eau de Parfum, is designed for both men and women and has the power to create a feeling of charm and temptation.
Dark Purple, created by the talented Pierre Montale and introduced in 2011, is a fragrance that combines the rich and tempting essence of plum with the invigorating freshness of orange. This delectable top note immediately enthralls the senses.
Moreover, the essence of this scent blossoms with a gentle combination of rose petals, geranium bourbon, patchouli, and an alluring blend of red fruits.
This perfume guarantees an unforgettable impact with its long-lasting and luxurious blend of gray amber, teak wood, and white musk, creating a deep and earthy foundation.
Therefore, the Montale fragrance is a harmonious blend of allure, rendering it essential for individuals in pursuit of a captivating and enchanting perfume.
Montale Paris Roses Musk
Montale Paris Roses Musk is a fragrance crafted solely for the female demographic, showcasing Pierre Montale's expertise in the field of scent creation.
This fragrance is a wonderful blend of simplicity and sophistication, where the scents of rose, jasmine, and musk seamlessly merge to capture the refreshing and enchanting essence of freshly bloomed roses.
The story is evident in the name of this fragrance, Rose Musk. It is a combination of beauty and simplicity. The scent is as captivating as a diamond, with a gentle and comforting musk that enchants the senses.
The addition of a small amount of sweetness brings elegance to the fragrance, creating a heavenly scent of roses that feels wonderfully delicate and weightless.
Therefore, Montale Paris Roses Musk is a celebration of flawlessness, delivering an essence of beauty that is eternal and effortlessly stunning.
Montale Paris Black Musk
Montale Paris Black Musk is an enchanting fragrance with an Oriental Spicy scent that exudes an air of intrigue and attraction, suitable for both men and women.
This fragrance was introduced in 2010 and is a product of Montale, demonstrating the brand's dedication to producing high-quality products. The initial scents of musk and amber produce a luxurious and sensual sensation, followed by a middle note of sandalwood and leather that bring depth and refinement.
The scent ends with a final note of nutmeg and pepper, creating a long-lasting aroma of spice and warmth.
Therefore, Black Musk is a versatile and captivating fragrance that is suitable for anyone, regardless of their gender, who appreciates the mysterious charm of oriental scents.
This addition to the Montale collection is both timeless and daring, intended to captivate the senses and create a memorable impact.
Montale Paris Santal Wood
Montale Paris Santal Wood is an extraordinary fragrance with a captivating scent that appeals to both men and women. This unique Amber Woody fragrance was first introduced in 2012.
This fragrance skillfully combines ingredients that create a sophisticated and natural scent. The initial aroma is invigorating, thanks to the inclusion of seawater, juniper, cardamom, nutmeg, and black pepper.
As the fragrance evolves, the middle tones of sandalwood and cedar enrich and give a cozy feeling to the overall scent. In addition to that, the underlying essence of oakmoss gives it a solid and natural ending that lingers on the skin for a considerable amount of time.
Hence, Santal Wood by Montale is a perfume that embodies a feeling of innate refinement, making it a classic option for individuals who appreciate the intricacy and opulence of fragrances with amber and woody notes. It is an enchanting aroma that captivates the senses, providing a hint of the allure and sophistication found in nature with each application.
Montale Paris Rose Night
Montale Paris Rose Night, released in 2014, is a captivating scent that tells an enchanting story of sophistication and intrigue.
Montale has crafted a perfume that highlights the captivating rose as its main feature. The initial scent gently reveals the delicate and tender nature of rose petals, creating an elegant and enticing floral atmosphere.
The essence of the fragrance is enhanced by the intricate nature of Bulgarian rose, providing a luxurious blend of sweet honey, spices, and delicate notes of powder and citrus.
Underneath this heart that revolves around roses, the scent becomes stronger with the comforting warmth of white musk, the naturalness of patchouli, and the sophistication of amber. Collectively, these underlying scents create a feeling of depth and luxury, making sure that Rose Night perfume is an engaging experience that enthralls the senses with elegance.
For those who desire a fragrance that is timeless and enchanting, Montale's collection includes a captivating scent akin to the allure of roses.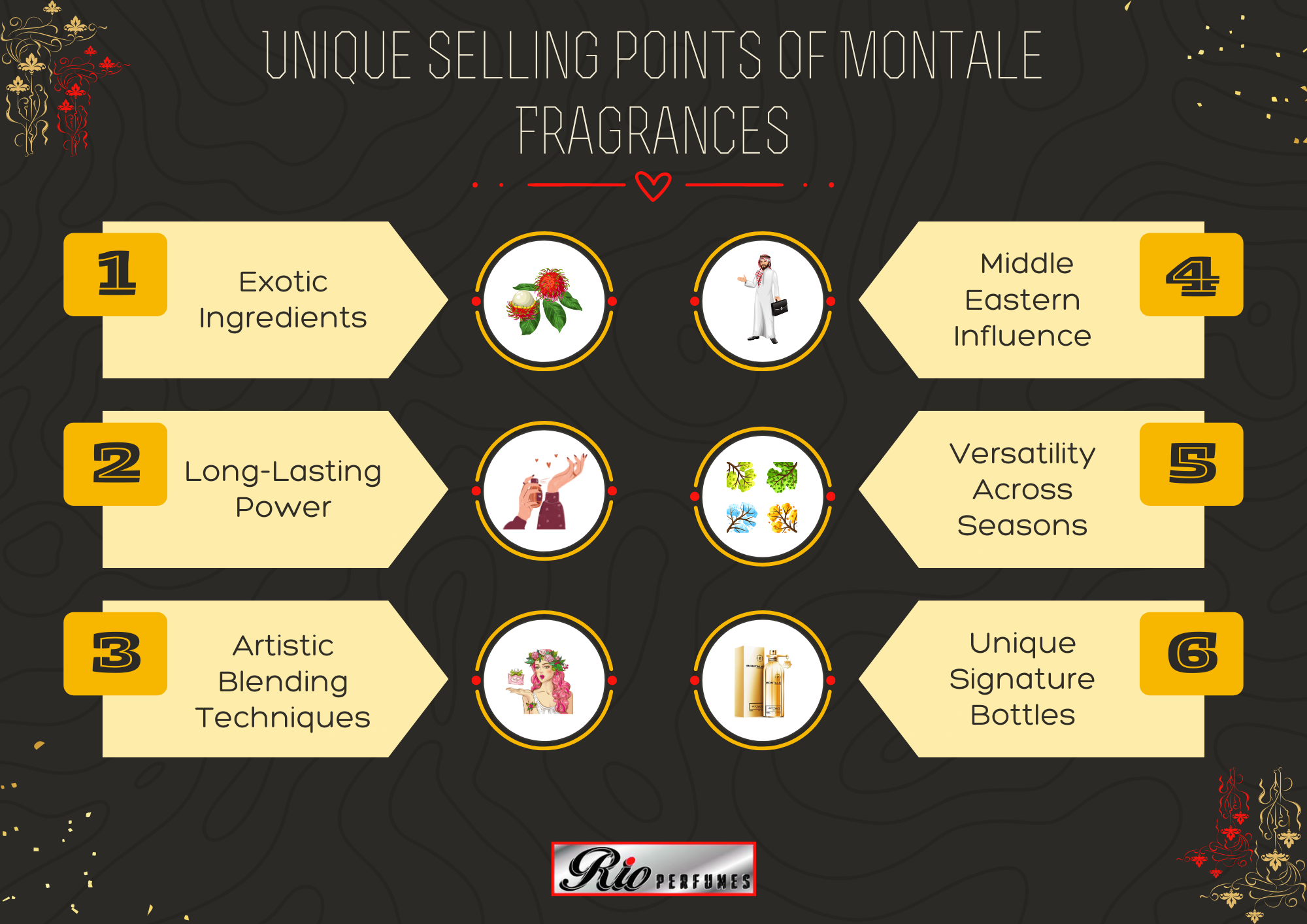 Frequently Asked Questions (FAQs)
What is the process of personalizing your Montale fragrances?
Are Montale perfumes long-lasting?
Montale fragrances are renowned for their impressive, long-lasting effects. These perfumes are created using potent amounts of aromatic oils, captivating your senses with their one-of-a-kind and opulent combinations while also remaining on the skin for an extended duration.
Montale's dedication to utilizing top-notch ingredients and focusing on producing powerful and aromatic fragrances contributes to the enduring qualities that are highly valued by numerous consumers.
What is the Montale fragrance that is most widely favored?
Subjectivity may come into play when determining the most popular Montale perfume. Nonetheless, one fragrance that consistently captivates people is "Montale Roses Musk." This exceptional scent is renowned for its enduring charm, as it combines the captivating essence of fresh roses with a subdued touch of musk, resulting in a delicate yet potent aroma.
Rose Musk is a great option for those who love fragrance and appreciate a refined and enduring scent, thanks to its perfect combination of floral sweetness and sensuality.
To Conclude: Montale Perfumes
In conclusion, our experience with Montale Fragrances has felt akin to taking a leisurely walk through the enchanting streets of Paris. Each fragrance transcends being merely pleasant, instead evoking a sense of artistic expression and serving as a delightful memento of the city's allure.
After informing you about the top five Montale fragrances, you have come to realize that each scent is akin to an untold story. It goes beyond the combination of various notes; it is about discovering a fragrance that is distinctly yours, a scent that deeply connects with you on a personal level.
Montale possesses the ability to craft unique olfactory journeys. With a range of fragrances that vary from lively and floral to enchantingly mysterious, each scent beckons you to embark on a personal aromatic adventure. Discover and define your own scent narrative by experiencing these Montale fragrances available at Rio Perfumes, and continue to captivate your senses.
Thank you for reading!